This 72 Comet was competing in the 7.5 class at Gateway this past weekend. I didn't get to see it run, but 7.5 is hauling the mail. The 71-77 Comets don't get a lot of mention so I thought I would post this. I also talked to a guy this weekend who has a sweet 69 or 70 Mustang and he told me his son bought his first car and it is a 70's Comet. Good to see these cars are still around.
Attachments

thumbnail_IMG_1878.jpg (49 KiB) Viewed 3563 times
---
Site Admin
Posts: 3972
Joined: Sat Nov 01, 2003 8:17 am
Location: Missouri, Ozarks way North
Contact:
That is cool
See Ya,
Mike
64 Comet 202 Sedan, My first car, I have owned it since 1979!
Performance rebuild on a
BUDGET
- Working on; 250-6, T-5, 8.8 LSD, MII, Air Ride - Whatever I do it will be awesome!
---
More of a Maver fan but ya these are cool cars. Helped a friend with a Maverick FE power, ran low 11s many years ago.
I think I read they are more aerodynamic than Mustangs.
Remember GappnRoush's moredor ?
Fred
---
I guess I am partial to the early 70's Comets, ( actually just about any year Comet)
In addition to my '64 Cyclone that at the present time undergoing a major transformation I one owned a couple of Comet GT's. Although I sold them years ago I have been able to locate both of them and know that they are still around.
Jim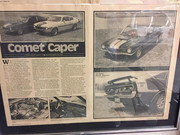 '64 Cyclone
---
Neato Jim, would enjoy reading the write up if you happen to get to enlarging the print.
Fred
---
Thanks Fred,
Somewhere I have a scrapbook with all the articles and clips about my cars, I will locate it and shoot a better picture.
This weekend is the vintage drag race event at George Ray's Wildcat Drag Stip in Paragould AK. I am leaving in the morning, it should be like going back in time about 60 years.
Jim
'64 Cyclone
---