Posts: 866
Joined: Mon Sep 21, 2020 5:23 pm
Location: Louisiana
Great job!
One of these days, you'll be racing the truckers on the 610 Loop!
Joe
---
Awesome job Christian. Bet you learned a lot. Keep us posted with school also. We want to know how the rest of the students react to your car. Take care of your self and enjoy your time at school.
Tom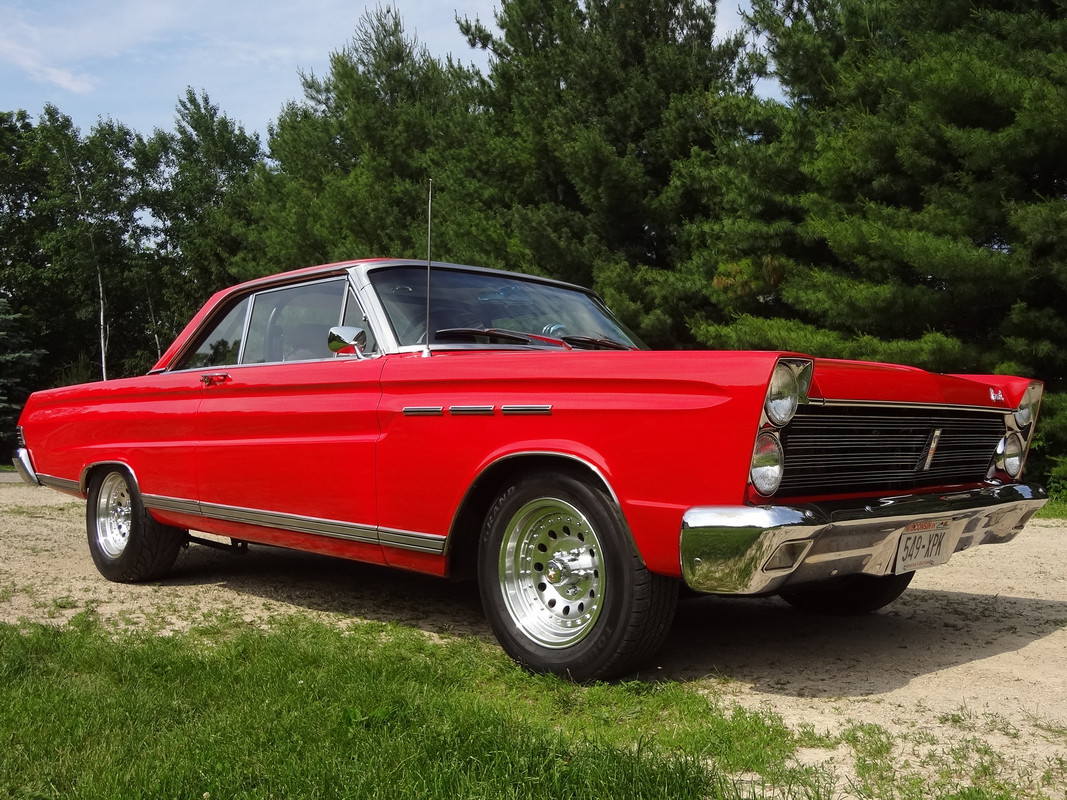 tomb's 65
---
Jims65cyclone

wrote:

↑

Wed Sep 08, 2021 10:32 pm

Wow, Cristian! You've done a TON of work since your last post, and it all sounds like it's worked out great. Those pics of your engine bay look sharp. I'm impressed by how much you've learned and taught yourself.

Looking back at your thread, you had talked about rust repairs that you need to do. Any plans in the works for that?

Jim
Hey Jim, I do have some plans to work on the rust soon, but they aren't conclusive as of now. The rust work was meant to be the next item to tackle after the radiator and the electric fan, but ever since I've finished that whole ordeal, my dad has been pushing me to change to disk brakes. My drum brakes work perfectly fine, especially since I recently changed the wheel cylinders on the back, but I also see why my dad may want me to switch to disk brakes soon. I think he's worried my drums won't be able to always be reliant upon sudden traffic stoppage. I know drums will do just fine as long as I take my space and am responsive of the situation, as I recently experienced something in that accord when the left lane on the highway suddenly stopped while I was going 50 because of a crash- I was able to stop in time. Altogether, I don't want him to worry, so it's why I decided to let off the rust work for a second. However, we are moving into the house next door soon and leaving ours to my older brother and his wife soon, and the mailbox in the new house is completely trashed as somebody crashed into it. Hence, my dad wants to replace it with a custom steel one. See where I am going with this?
I'm going to try and convince him to go halfway on a welder, as I am going to need a welder and he's going to need a mailbox. I have a couple of friends willing to help me incase I don't feel confident enough to tackle the mailbox after practicing. Nevertheless, I am looking to solve the rust soon, I promise. Either way, I am planning to get a welder and the equipment within the next upcoming months.
Thanks everyone for the kind words, I did happen to be stuck in a traffic jam while it was 95 degrees, and I did not have to worry one bit. A whole one hour an a half of care free inching.
School is going amazing, and the students sure have a reaction to my Comet- you wouldn't believe how wide their eyes open up and how big their smiles get as I enter the campus. Have a good night!
---
Posts: 2186
Joined: Sun Nov 23, 2014 9:29 pm
Location: Lexington, SC
Sounds like a good deal with your dad on the welder. Win-win!
Front drum brakes aren't inherently dangerous, they're just not as efficient as discs. They're susceptible to fading if overheated or if they get extremely wet, like forwarding through a deep puddle. The former can be avoided by not making repeated rapid stops or riding the brakes while going down long steep slopes, like in mountains. (Shouldn't be a problem in your area.
) Avoid deep puddles if you can, but if you do have to wade through one, just lightly press the brakes for a few seconds a time or two after exiting the puddle while maintaining your speed to dry them out again. The bigger issue with your brake system is that it most likely still has the single bowl "fruit jar" master cylinder instead of a dual bowl MC. If anything goes wrong anywhere in the brake hydraulic system (failure of a wheel cylinder, blown brake hose, etc.), you have NO brakes at all. The dual bowl system separates the front brakes from the rear brakes hydraulically so you still have enough brakes to stop. Also, if your brake hoses are very old they can become brittle and subject to failure. If you install a disc brake conversion kit, it should come with a dual bowl MC and new front brake hoses. If you didn't replace the rear brake hoses, including the main hose that goes to the T on the rear axel, when you replaced the rear wheel cylinders, you should.
If your fellow students ask about your car, and you really want to see their eyes get big, tell them about the stuff you've done to it and plan to do. Most folks your age don't even know where the hood latch release is, let alone how to do the stuff you've done.
Keep up the good work on the car AND at school. And keep us posted on both.
Jim
---
for the record, I agree with Jim above. We still have drum breaks and I have never had any issues or concern about stopping safely. The dual bowl master cylinder would be a much better safety improvement than disk breaks in my opinion. However, from what I could see in the photos, the rust looks to be a bigger safety issue than both of those. If your rear leaf spring detaches itself while driving, that seems bad.
I'd start with the welder
1964 Comet Caliente Convertible
30,000 miles on our rebuild
All Comets start out as dreams...
---
I haven't followed the whole thread, but I see you are discussing brakes. Coincidentally, I will soon have a complete "Granada" brake set and the original 63 steering bits off my car. It all works perfectly, I am just "upgrading". The car stops straight and the steering is tight.

I would be willing to donate it all to your project, Cristian, if you decide you want to go with discs. Are you anywhere near Indiana?
---